This comic features a character I love performing perhaps the most terrifying act I can possibly imagine. I have had nightmares about falling into water with sharks since I was a little kid. So, since I don't care to go to therapy, I work it out on paper. Artists!
As I post this, the Kickstarter for Volume 1 is at almost 40% after 2.5 days. That's terrific! Thanks so much, everyone… The Riley Rossmo sketch sold but I'll be at the Ottawa Comiccon this weekend where I'll be picking up a couple pieces from my as-yet-unannounced surprise pinup artists. I will hopefully be posting a new one as a reward early next week. Keep spreading the word! I'm very happy with how it's going but the closer we get to the mark the better the stretch goals will be.
If you'll be at the Ottawa Comiccon this weekend, I'll have a special surprise: I'll have complimentary 'Get Strangebeard Funded' sketch postcards! Come pick one up and I'll put a little sketch on the back for you. Check 'em out: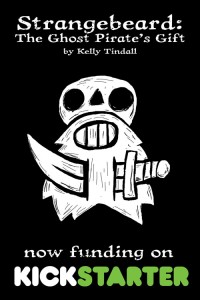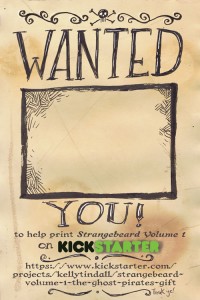 I'll also be doing a Sketcherades (charades, with sketches) at 1:00 on Sunday at the show. Come cheer me on!
I'm noticing quite a few new folks are finding the site… Thank you so much for checking out Jenny Strangebeard and her weird little piratical world. Feel free to leave a comment on any page that interests you; my commenters are a clever and well-read bunch and I always love to hear what they have to say. Welcome to Strangebeard!