30% funded! Still cranking along, folks. Shares and retweets are much appreciated.
The campaign to print Strangebeard 2 has reached the 30% mark in the campaign. There's still a long way to go, but luckily there's still a lot to get excited about. I have announced the first of my (amazing) new pinup artists… Disney Afternoon legend Tad Stones! Tad is the legendary creator of Darkwing Duck, and I couldn't be happier to have him.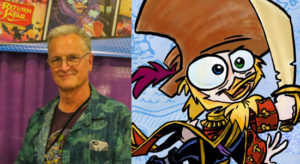 I'll be adding more pinup artists throughout the next couple of weeks. Any fans of magical ponies might be in for a treat…
Another big piece of news… the foreword to the book is ready, and it is terrific. Through some very good fortune, I was able to get in touch with the great Gideon Defoe and he agreed to contribute. Defoe is the writer of the hilarious pirate book series The Pirates! In An Adventure With... that was adapted into The Pirates! Band of Misfits by Aardman Animations. The Pirates! is one of my favorite movies and it was such a thrill to get Gideon aboard.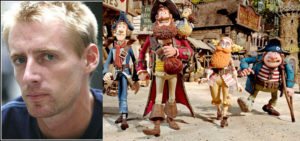 One of the most popular levels from the original Strangebeard campaign is also up for grabs — the 'appear in the comic' level. There are still slots available to both appear in the comic AND get killed in the comic. For example, here is one of the backers from the first campaign appearing in Strangebeard 2: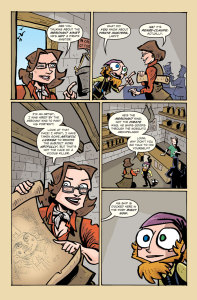 Thanks so much for reading all the way to the end! As a bonus 'thank you', you can message me with your address at kelly AT kellytindall DOT com and I'll mail you a special Strangebeard 2 postcard to remind you to help the campaign. Thank you for supporting Strangebeard 1, and here's hoping you can help me make Strangebeard 2 even better!